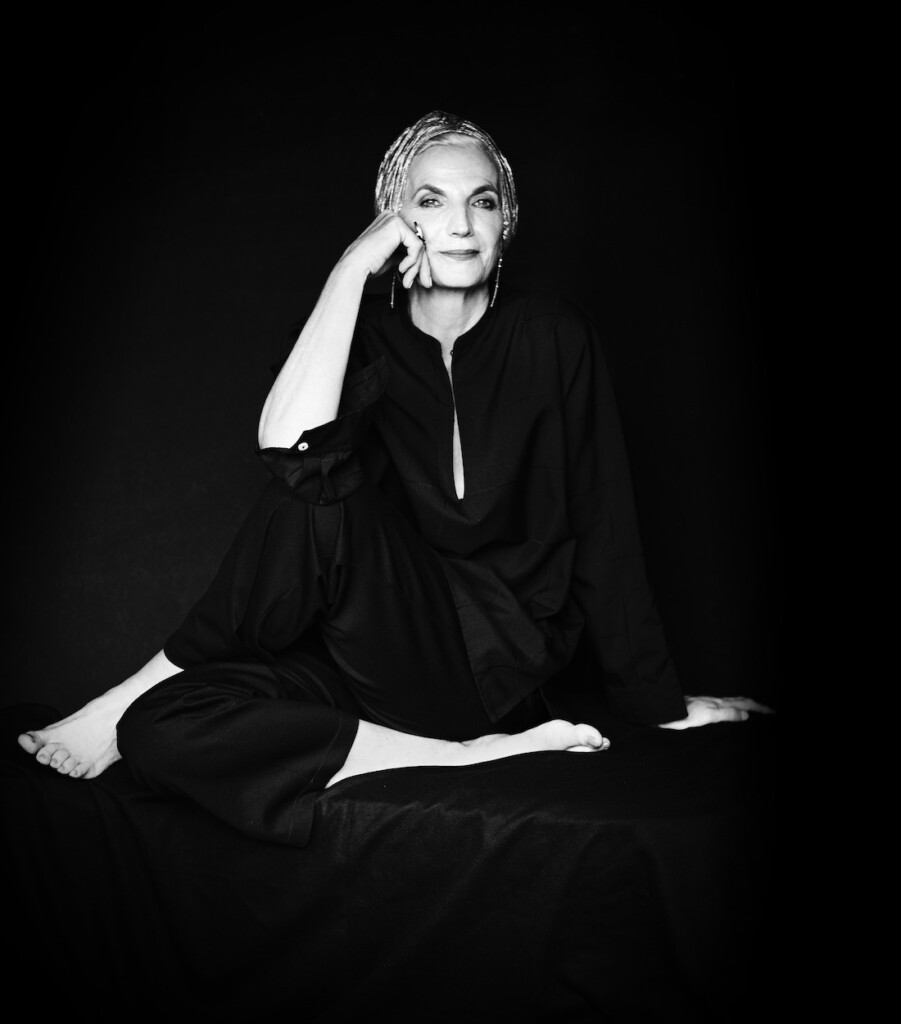 THE NOBLE WORLD – The Essence of Excellence
THE NOBLE WORLD, founded by Geroma Löw, stands for uniquely creative interior design concepts and holistic worlds for sophisticated clients with the highest standards. Geroma's husband Klaus Löw works behind the scenes as operational manager and is responsible for project management. The couple draws upon a network of the world's finest creative professionals and craftsmen in their pursuit and realisation of THE NOBLE WORLD.
Each interior design created by Geroma Löw represents a carefully thought-out, emotionally and intellectually deeply imbued composition. The designer and cosmopolitan Geroma Löw condenses the influences of different cultures into a captivating and uniquely enthralling mondial living experience.
An infusion of stylistic eras
THE NOBLE WORLD stands for sustainability, hand-picked furniture and accessories, excellent quality of materials, fabrics and colours brought to fruition through perfect workmanship. Geroma Löw incorporates the iconic aesthetics of bygone stylistic eras into modern living concepts with lovingly restored heirlooms and high-quality, carefully-selected antiques. Moving between worlds, she demonstrates almost playfully how unique design and good taste have retained their validity throughout the centuries – to be staged time and again in new contexts.
In addition, Geroma Löw combines living concepts and stylistic elements that draw from a crossover of European, Asian and Oriental influences in interior design. Every interior she creates builds bridges between cultures and in a creatively subversive way challenges and expands notions of well-known, saturated forms of living. Her approach opens this up to global, inspiring interior design in the truest sense: one that invigorates the spirit and the soul.
Her orchestration of interiors represents the lifestyles of a growing community of urban, cosmopolitan, well-travelled clientele. She combines her talents for staging an ambience as an overall work of art in apparent ease with a highly developed sensitivity for the living requirements of her clients.
Sounding out the needs and thoughts of her clients
To empathise with their way of thinking, their emotional needs, to sound out their preferences for colours, patterns and the look and feel of items right down to the last detail is "perhaps the most beautiful and exciting part of my work" explains Hamburg resident Geroma Löw.
When realising living concepts developed in this way, the designer offers her clients the best of the many places she has called her home. Geroma Löw spent her childhood in Brazil and has lived and worked in Germany and Italy as well as in Taiwan, Singapore, Dubai and various other countries in the Arab and Middle Eastern world.
Based on her global experience, Geroma Löw offers her clients the highest level of expertise in all areas of international interior design. Her interiors demonstrate an aesthetic that confidently expresses style even in the smallest details and is made up of a rich variety of cultural influences with an intense presence and charisma.
Each piece of furniture and accessory stands for itself and has its own effect, telling its own story, inspiring and enchanting in equal measure with well thought-out design, exquisite materials and made to high standards.
Achieving maximum effect with each item
Above all, Geroma Löw achieves the maximum effect of each item in the carefully arranged context in which it becomes part of the overall work of art, the sophisticated interplay that is the juxtaposition of western and other cultural influences.
A variety of carefully selected and installed light sources enhance the intended ambience. Depending on the mood, spotlights can be used to illuminate individual objects and their tactility – thus creating new scenarios time and again with different effects and statements.
Life as her mentor
Geroma Löw has developed her globally inspired, holistic aesthetic style during her long periods abroad in a wide variety of cultures. She spent her early years on her uncle's tea plantation in Brazil. The warm climate, the zest for life of the local population and above all their love of bright colours are among some of her most formative childhood memories. "I adored the colours of my mother's many lipsticks so much I bit them off to inhale them," she recalls. And it was always a special experience for her when decorators repainted the walls in the house. "I watched them the whole time while they worked and I was constantly fascinated by the way a new colour could change the character of a room."
Italy – excellerator for aesthetics
The return of her parents to Germany catapulted her as a child into what she felt was a new and initially extremely dreary routine. After graduating from high school and completing an apprenticeship as a tailor in haute couture, she exchanged the cold weather, dull light and muted colours of her homeland to study in Italy. In Milan she completed a diploma as a directrice for the clothing industry and courses of studies as a stylist at the illustrious ISTITUTO MARANGONI fashion school. Here she immersed herself in the life of a pulsating metropolis, experiencing an overwhelming wealth of music, art and architecture for the first time.
"This period was an excellerator in developing my sense of aesthetics and design which went far beyond the world of fashion, in which I was primarily involved at the time," explains Geroma Löw. Above all, meeting the former Art President of Venice, Signora Degan who she visited on several occasions in her Venetian villa – adorned with countless valuable works of art – contributed to her rapid development during this phase of her life.
Signora Degan taught her to think both holistically as well as right down to the last detail – for every creative piece. "A sketch of an idea is not enough to bring a fashion collection or a room to life. Every concept only comes to life if I can name, describe and above all: FEEL even the smallest detail right from the start," states Geroma Löw.
The years studying in Italy, which she completed with a Prèt a Porter collection, laid the foundations for her cosmopolitan approach, no matter where fate would take her in the years to come. Just like back then in Milan, she immersed herself in the history and culture of each of her host countries from the very first day: sounding out the essence of each place from everything she encountered there. The mentality of the inhabitants, their music, architecture, paintings, handicrafts as well as typical materials and traditional production and workmanship all played their part.
Asia – the principle of attention to detail
In Taiwan's capital, Taipei, Geroma Löw lived like the locals: in a small apartment on tatamis, the country's typical raffia mats, a legacy of the Japanese colonial era. She devoted herself to learning about with the country's traditional silk fabrics, using them to make elaborate evening wear, dresses, blouses and skirts for the ladies of the International Women's Club. In addition, she presented her collections at fashion shows and set up her own business designing and selling made-to-measure apparel.
A year later, having relocated to Singapore, she taught at the Lasalle International Fashion School. At the same time she discovered her love for Japan. With the help of her Japanese friend Akiko Silva, she got to know the culture of the country better. It was at this time that she started a life-long passion of collecting rare vintage kimonos. "Through this experience, the IGIKAI philosophy of perfectionism in details, became the leitmotif of my life and my creative work".
From the end of 1991 she was able to apply her learnings in IGIKAI to the Italian luxury company LORO PIANA. "As a stylist, I was able to impress the distinctive look and silhouette of LORO PIANA upon local tailors" she recalls. She received training at the company's Italian headquarters: Signore Barberi, master of tailoring and guardian of the silhouette of LORO PIANA, explained to her what was important: quality at all levels. That it is only the best materials in combination with a perfect fit and harmonious proportions that ultimately create the overall impression of "excellence" and the perfection of the textile silhouette right down to the last detail.
Dubai – culture shock and a fresh start
Culture shock: towards the end of 1992, Geroma Löw discovered Dubai – a completely new world. At this time, today's metropolis consisted of Bedouin villages that had grown together, a World Trade Center, bungalows with walls around them, lots of sand and the turquoise blue sea.
She quickly faced these challenging conditions. Just a few weeks after arriving, she was already organising product developments and collections for international fashion companies. She oversaw the manufacture of the collections in countries such as Pakistan, India, Bangladesh and Cambodia. "I never wanted to feel like a foreigner in these cultures which seem foreign to us in the west," says Geroma Löw.
She got to know a new, hitherto unknown splendour of colour both in India and in Pakistan, as well as the finest needlework and weaving techniques, which made a deep impression on her. This experience subsequently led her deeper and deeper into the field of interior design. "This comprehensive approach enables me to think without limits, to break with conventions, to apply lateral thinking and to stage pieces in new contexts."
Design expert and entrepreneur
During her creative development, she has been supported by her friend and mentor Anneke Buker Wirl, founder of the famous Dubai gallery PORT of CALL. Geroma Löw met the fine art expert for Far East and South East Asia in 1992 at an exhibition at the Majlis Gallery in Dubai.
The objets d'art exhibited included collectibles, small pieces of furniture such as chests, chests of drawers, consoles, art pieces, sculptures and antiques with a high decorative value. The idea for cooperation was clear: with Geroma Löw contributing her expertise in the textile sector, they were able to present their holistic interior concepts in the rooms of the AATI, then the most important premium and contemporary designer furniture supplier in Dubai. In addition to visitors from all over the world, regular customers included local Sheiks, some of whom would soon give the entrepreneurs opportunities to view the interiors of their palaces.
India – jewellery design for Armani und Versace
While on a trip to India, where she was looking for decorative objects and fabrics for another exhibition at the AATI, Geroma Löw met Munnu Kasliwal, the owner of the Gem Palace in Jaipur. She learned a lot from him about Indian customs and style elements.
Window decorations with lightweight, batiste-like fabrics. In this case, the Palace Hotel Rembagh in particular was a wonderful inspiration. Together they visited the region's best craftsmen, including block printers, screen printers, Kashmiri embroiders, dyers, potteries and tile painters.
Munnu, who was also the owner of the largest workshop for precious and semi-precious stones in Jaipur, inspired GEROMA Löw to become a jewellery designer. Together they created new pieces out of antique jewellery from Maharajas using sapphires, emeralds, gold and silver. Some of her jewellery was later sold to Giorgio Armani and Versace. Geroma Löw: "This trip was a rather like a fairy tale from A Thousand and One Nights.
THE NOBLE WORLD – excellence condensed
Textile expertise, interior and jewellery design: today, Geroma Löw combines three creative disciplines at the highest level under her umbrella brand, THE NOBLE WORLD. The company is located in Germany, France and in England, where her business partner Anneke runs the UK branch. Their network of excellent craft businesses as well as art and antique dealers all over the world enables them to realise even the most unusual or extravagant wishes of discerning customers.
THE NOBLE WORLD – The Essence of Excellence.