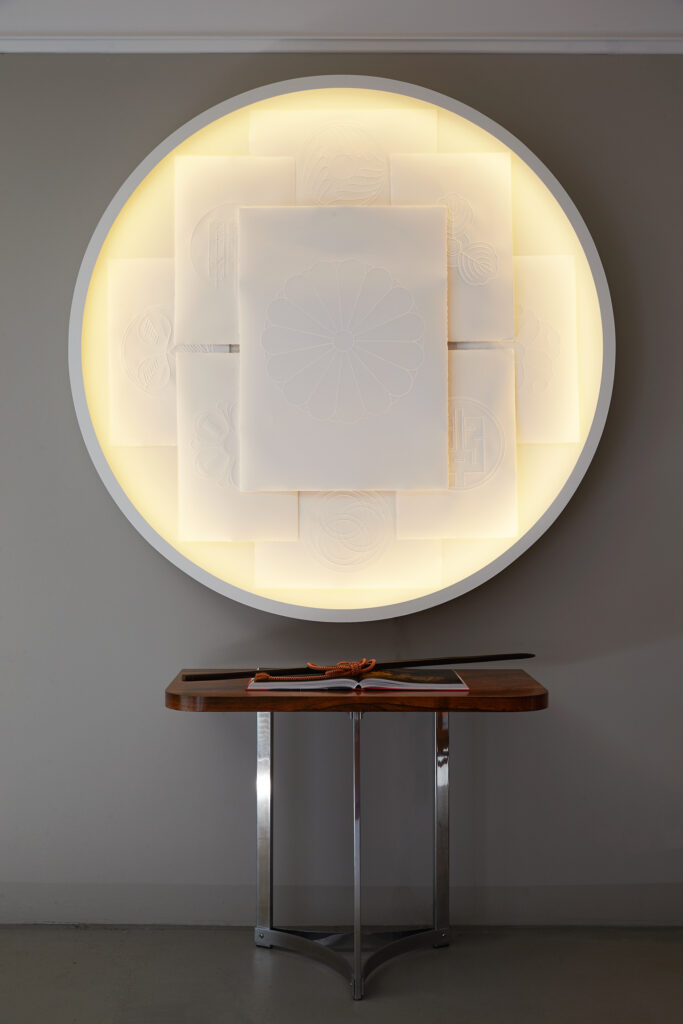 This wonderful work of art is the work of Munich-based artist
FABIAN GATERMANN. A unique piece, it was made on request for CORNELIA LÖW INTERIORS.
I visited the SAMURAI exhibition at the Kunsthalle Munich In 2019.
An exhibition that is enormously rich in colour and form, drama and culture. At the same time, Fabian Gatermann created a work of art with lots of cards and MONS in the shop window of Ludwig Beck's department store for the stationery department. It was devised to draw attention to this exhibition.
Filled with the incredible number of motifs and details of Japanese samurai culture, I left the Kunsthalle and discovered this "teaser" in Ludwig Beck's shop window. I felt a deep connection between the fullness and "heaviness" of the samurai and the "lightness" of these motifs embossed on handmade paper.
I wanted to get to know this artist and actually met him that weekend in Munich. My idea was to create a work of art for my loft as a lighting element that complements the glass showcase and for it to be able to act as a counterpoint.
We put our heads together and Fabian Gatermann also created new mon motifs for me (see the book on Japanese design motifs – a book that accompanied me during my time in Singapore at the Lasalle fashion school).
The frame made of bent laminated wood incorporates the light, which can light up in all colours of the spectrum. The complexity of the embossed mons in different sizes and ornamental styles gives the work its lightness, it appears as if it were floating.
The foremost or uppermost layer is the largest – the mon of the emperor, the ones below are correspondingly smaller and have a lower rank.
A hierarchy becomes clear, which is of great importance in Japanese culture.
When I see such a work of art behind the reception area of a company with many employees,
I see respect and recognition as well as motivation and appreciation.
All of which I experienced during the project which was distinguished by a wonderful ease of collaboration.