I find screens are an indescribably beautiful piece of furniture or object to create ambiance.
There are so many different ways of designing a screen.
Simply the choice of material alone offers endless possibilities.
Screens give an interior a special touch, and they can be applied in so many ways.
The background to this screen is as follows:
The fabric panels are made from the lining of a Japanese haori jacket (men's kimono) from the Edo period – at the end of the 19th century.
They always have the same width of 35 cm.
The fabric inspired me to design panels – I wanted to add some élan to the fabric by accentuating the warp and weft.
I wanted to add some élan to the fabric by accentuating the warp and weft. we decided to embroider the warp and weft in some places with gold and silver thread and pearls.
We created the panels, which we stretched taut using the classic wall covering process.
I decided to put them in a screen.
My carpenter built me a frame that we designed in such a way that the panels can be seen on one side and mirrors could be used on the other side to counter the tension of the panels.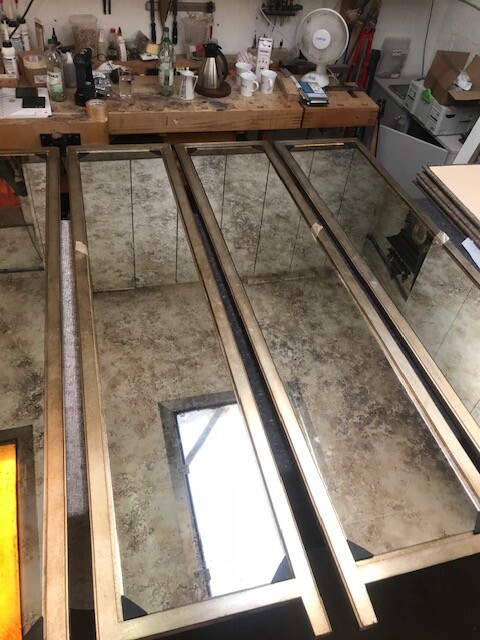 The mirrors are handmade in Italy. Reflections from the mirrors with their slightly brown vintage look help give a room a warm atmosphere.
Since the panels did not cover the full length, the design on this side had to look different to the side with the mirrors.
The hinges fold either way, thus allowing the four elements of the screen to be placed in the room at will.
If the fabric panel side is illuminated, the delicate embroidery flashes in the light, giving the screen a noble glamorous touch without being intrusive.
The screen forms a wonderful background for a cosy interior.
At the same time, the other side reflects the ambience of the room.