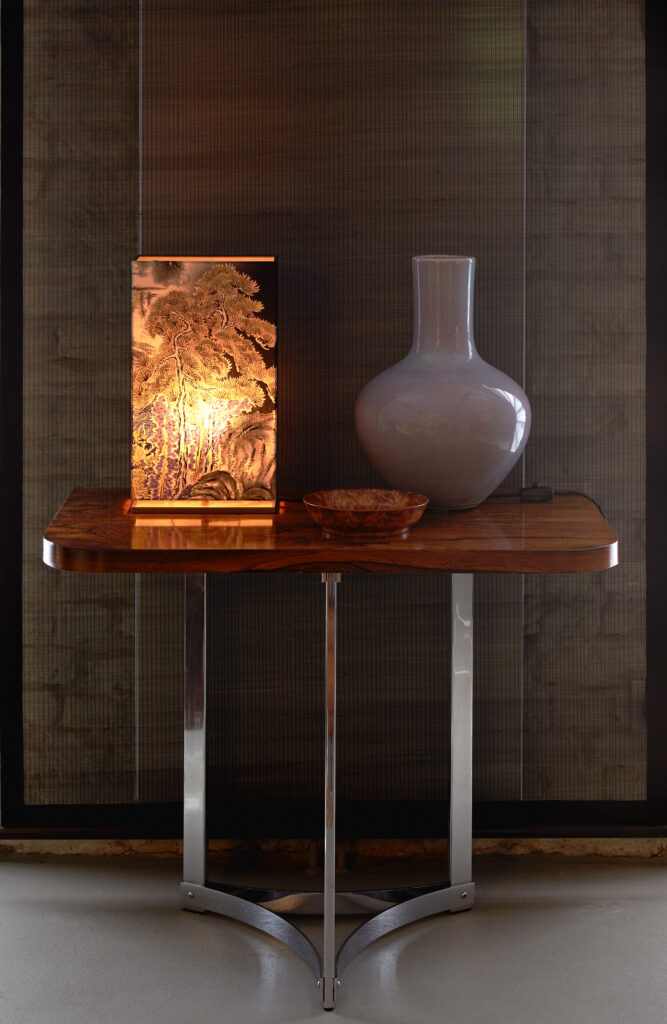 The setting is arranged in front of a fine black bamboo tsudari edged in black. The lamp has a solid burnished brass base and a central bulb holder which takes a candle-shaped bulb.
The shade is handmade from the lining of an antique haori laminated onto a specially manufactured lampshade card backing material. The lampshade card backing is gold-coloured yet still allows light to shine through. The lightshade is 13 cm deep x 40 cm high x 24 cm wide. The lamps were created in collaboration with Livia Design.
The lamp is transformed into a work of art thanks to the wonderful design of the fabric, which depicts a landscape and on the monochrome areas it displays a mon, a Japanese family crest.
Every lamp is different; we have placed the crest on the sides.
The result is a very cosy light.
This setting is arranged on the Merrow Associates table with a porcelain vase, a burl wood bowl and this hand-made lamp are placed in front of the tsudari.
This ensemble imparts every room with an enchanting, dramatic atmosphere.