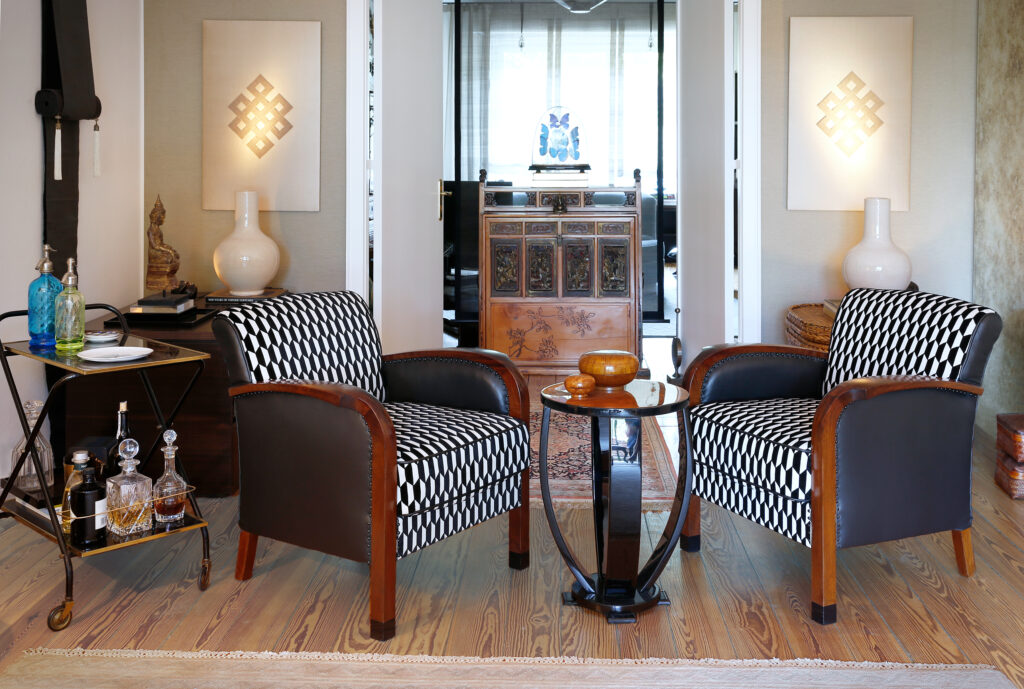 For this setting, we chose two armchairs. They give the room openness and largesse and perfectly go with the ART DECO occasional table.
These armchairs have been completely reupholstered in leather, studs,
and velvet from Jim Thompson. Two antique Chinese burl wood bowls from the late 1900s are placed on the table.
Two hand-embroidered endless knots were hung on the two walls behind.
These murals are embroidered with silver thread on silk fabric and then stretched on a frame.
ENDLESS KNOT – is a cross-stitched Buddhist Tibetan-style infinity knot which, in addition to its spiritual importance, is a very decorative design.
We illuminated this finely embroidered work with uplighters.
The two Palais coloured crackle glaze vases complete the picture perfectly.
I n the photograph on the right, a mirror has been placed, spanning the entire height of the room and the width of the niche. The patina and burnished finish of the mirror reflect a cosy light into the room.
The ensemble arranged on the left, comprises a Japanese obi with Venetian Fortuny tassels with a Buddha enthroned in front of it,
reflected in the mirror on the opposite side of the room.