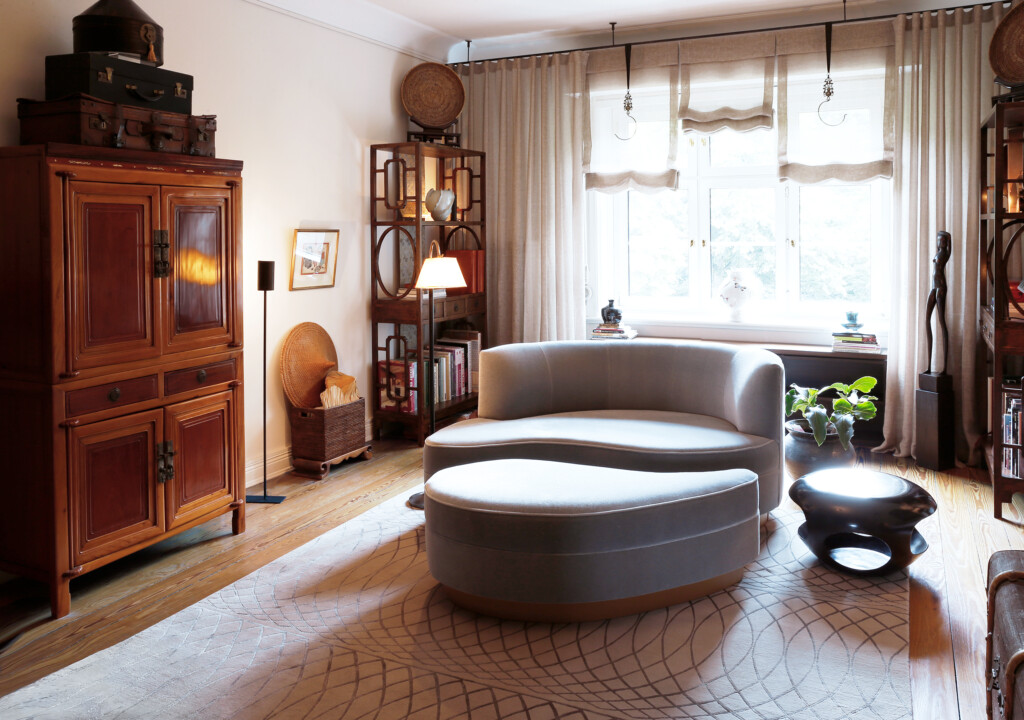 I wanted a change from having a square sofa, I wanted something harmonious, something softer that fits into the room, leaving space to walk around it.
The room is used as a reading and television room. Two people should be able to relax comfortably on the sofa, while at the same time have the possibility to put their feet up.
For me, this meant that this piece of furniture had to be in two parts. This idea came to me in 2017 and we started developing it in 2018. One source of inspiration was Vladimir Kagan, who famously designed and built sofas abounding in curves in the 1970s and 1980s.
In our case, this YING YANG form crystallised out of sitting habits. We first designed the sofa like a sectional drawing in order to explore and define the proportions and dimensions. We wanted to avoid it being too heavy and yet still be strong enough to allow for a stable backrest to be firmly mounted to the base of the sofa. We added cut-outs to the base of the sofa and the stool to lighten them.
To ensure dimensional stability of the seating surface and the stool, the material to be upholstered had to be quite firm – here we chose a foam which was then covered with cotton wadding prior to be upholstered.
The base of the sofa makes it appear to be floating; this is covered with metallic leather –
the sofa itself is upholstered with a high-quality mohair by Cleo C from Paris. Realising this piece of furniture was a great creative challenge and also demanding in terms of craftsmanship.
The design of the carpet (The RUG Company) on which the sofa has been placed emphasises the round shapes of the sofa and footstool, as does the bronze Tabouret capsule by Herve van der Straaten.