We were presented with three different challenges in this design bureau. Located in a beautiful old building, it has the typical Hamburg bone-shaped layout where various rooms all lead off a long hallway.
Our first steps were to furnish this hallway with two cupboards, made in the style of the room doors, to create vital storage space. We changed the fronts of the cabinets – the cabinet doors – to match the proportions of the room doors and incorporated the existing skirting boards. Following on from the cupboards, hanging space was needed in the extension of the hallway for a very large number of samples.
Instead of placing these samples on stands on just one level, we created graceful, two-tier steel shelves which were sprayed white and allow the samples to be hung one above the other.
This achieves a tidy and aesthetic look.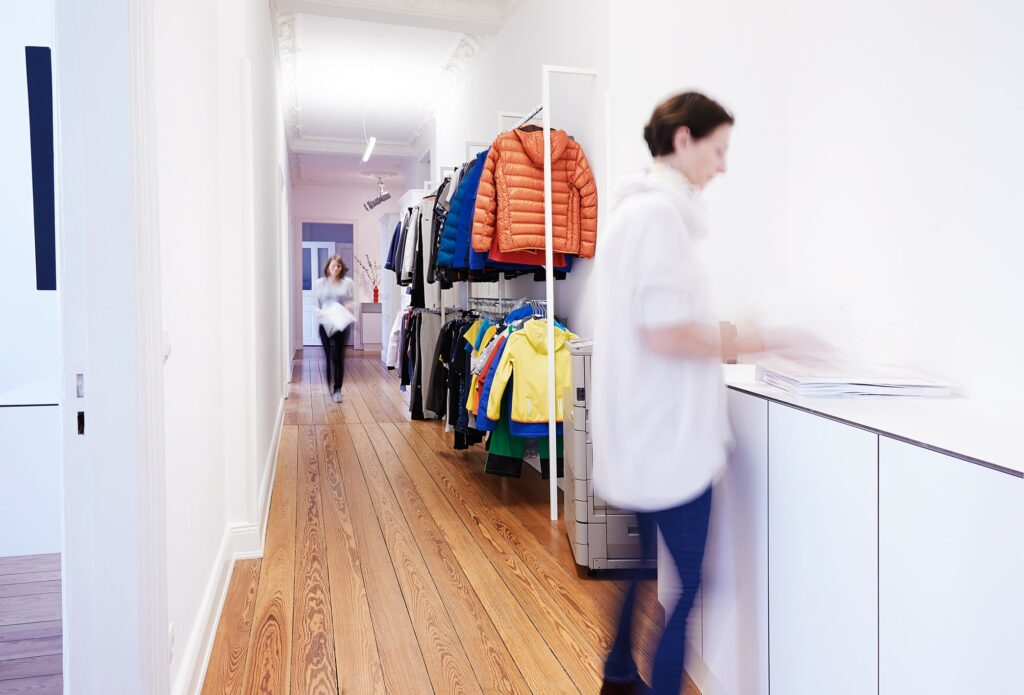 The second challenge was to eke two or three workplaces out of a narrow room that is barely 2 metres wide without the people there getting in each other's way. We came up with a dynamic worktop that stretches along the main wall right up under the window at the end of the room.
The front edge of the worktop is tapered, making its appearance slimmer and more graceful; this also makes it more comfortable to work at. The individual computers/servers have been hung under the worktop, freeing up floor space and resulting in convenient cleaning of the workspace. A mirror on the left wall reflects daylight into the room and also makes it seem a little wider.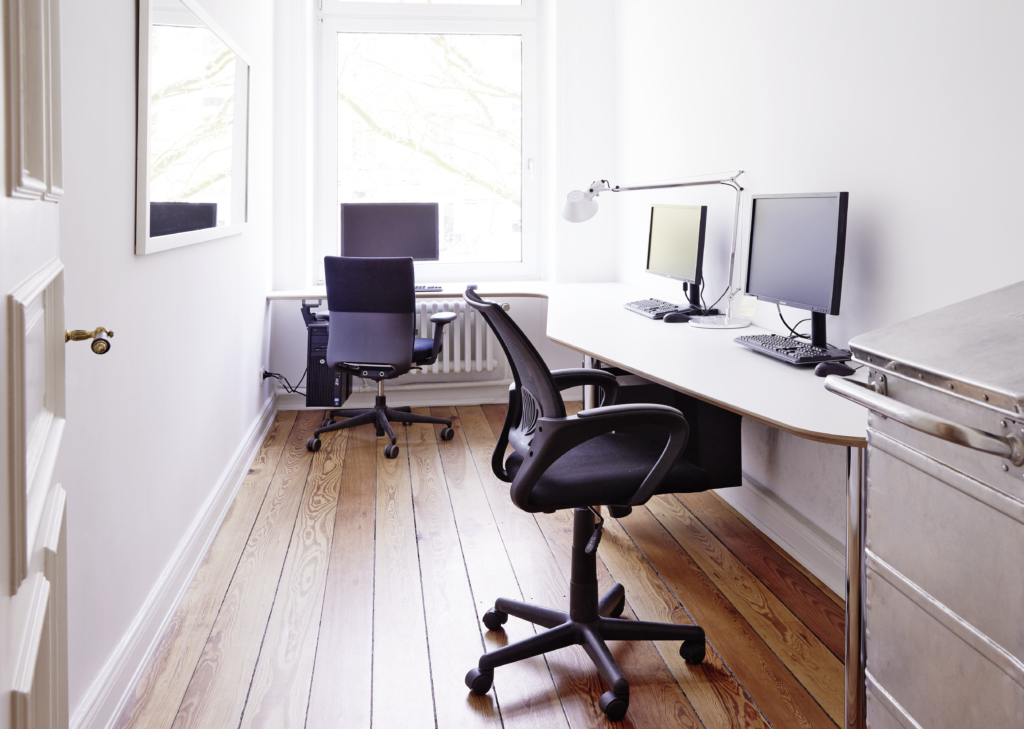 The challenge regarding the meeting room was that this wonderful space was separated by a sliding door that was not soundproofed from the other room in which further workplaces/workstations are located. The background noise was very distracting – both for staff at their desks as well as for the participants of a meeting.
We moved the sliding doors right back into their cavities and designed fitted shelves for the opening. Furnished with sound insulation material on the back of the shelves and neatly finished with a plain MDF board. This way we created storage space for the meeting room and solved the issue of the background noise. The shelves can be removed at any time and the sliding doors used again whenever this is desirable and deemed necessary. This office now combines modern space solutions for a modern style of working, taking into account existing style elements which have been expertly integrated.