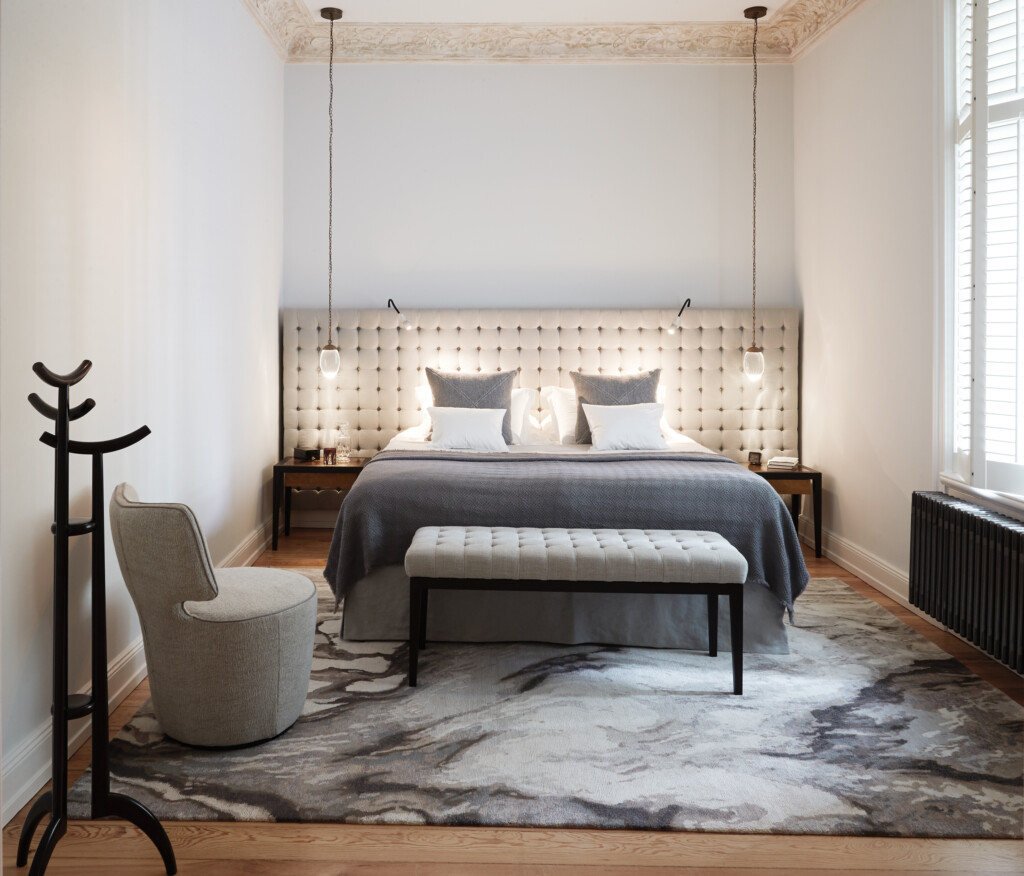 It was the client's wish to transform the bedroom into a place where one could happily linger in bed 2 minutes longer in the morning and joyfully look forward to the day ahead.
This is a town house – a flat with stuccoed ceilings 3.80m high and with a rosette at the centre.
The wooden floor boards were sanded down and resealed. We completely removed any paint from the stucco and thoroughly cleaned it. Many flaws and cavities became visible.
We added the missing ornaments in painstakingly detailed work and made the three-dimensionality of the stucco visible again.
We left the stucco unpainted and just sealed it with shellac.
The intention was that the room should radiate lightness and freshness with delicate grey tones.
Together with the lighting, the combination of brass, the wooden floor and the shades of grey creates a cosy atmosphere.
To give the room a greater feeling of spaciousness, I decided to use the entire width of the back wall as the headboard of the bed. The headboard is set against the top of the skirting board and is approx. 15 cm thick – this allowed us to install electrical sockets into the lower edge of the frame. Thus provision for a power supply for an alarm clock or radio, mobile phone or additional lighting is possible.
The bed is by COCOMAT and is made entirely of natural fibres comprising the base plus a bottom mattress,
in this case two separate ones – depending on each individual's physical build – a topper that holds the two mattresses together and, if desired, another topper made of down which is very soft and cuddly. The bed has a linen cover from De Le Cuona fabric.
The bedside tables and the upholstered bench at the foot of the bed were made by a carpenter. The drawers of the bedside tables and table tops are covered in leaf brass and have been distressed to match the magnificent lamps by Ocre in London.
We have chosen different coarse and fine linen structures for the textile materials in order to maintain the arc of suspense. The large linen cushions are handcrafted with diagonal decorative quilting thread by De Le Cuona.
A small wardrobe made of ebony wood is unobtrusive and fits well into the ensemble.
The carpet is from THE RUG COMPANY, giving the entire room a down-to-earth yet "heavenly" cosiness.