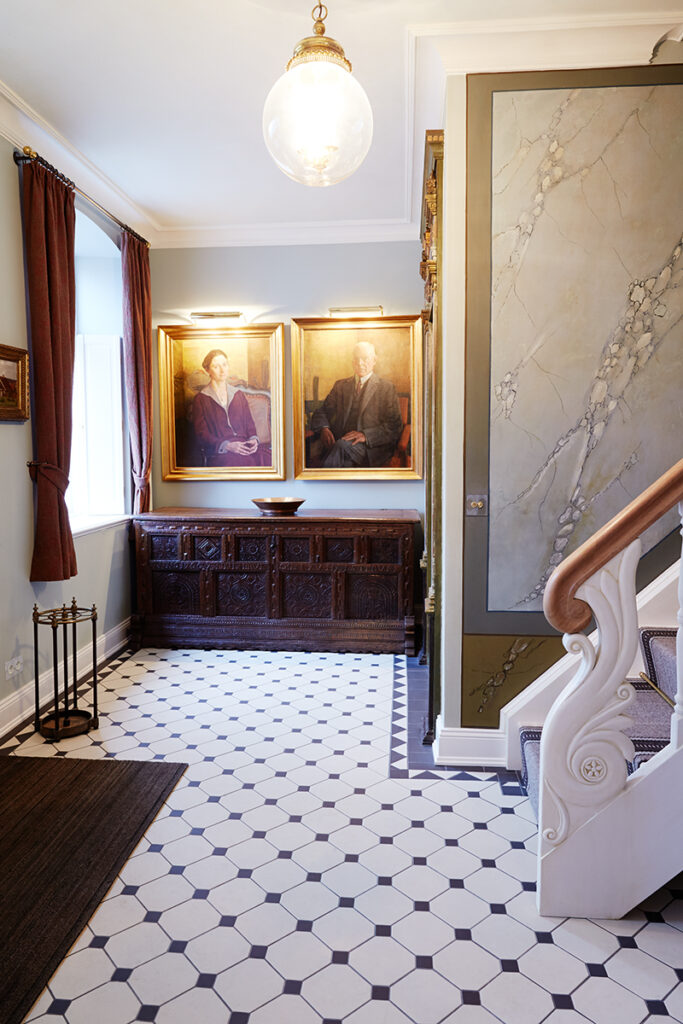 This project is at the heart of a large comprehensive artistic endeavour. The introduction to this project can be found here: Ophold – dining and meeting room in a historic townhouse
We actually moved walls for the entrance. The big old chest from the 17th century was to find its place here. To create the space for this, the wall to the office had to be moved by some 25cm in the direction of the office. We completely redesigned and built a new staircase, integrating just the end piece of the handrail – the baluster, with its beautifully carved features – into the banister.
The opening in the hallway to the back door restores the generous, spacious feeling. The wall we demolished had been put in place sometime after the house was built and meant you couldn't move from the back to the front of the premises without going through the kitchen.
We investigated the use of various historical tiles for the floor and then chose this black and white variant. To the rear of the hallway, in the area around the back door, there still existed old tiles that we have reused in part.
We uncovered the marbled wall and had it restored. We chose the carpet for the stairs from Roger Oates. The switches are from Forbes & Lomax. The Pagoda Globe Lantern in the entrance is by Charles Edwards London and wonderfully illuminates the whole the stairwell and entrance. The ancestral paintings refer to the history of the house and whose friendly demeanour greets those who enter the building. All curtain rods and holders have been made to measure.
The marbled wall painting now adorns most of the side wall next to the stairs leading to the upper floor. We placed the ancestral gallery which was previously spread over the entire stairway on the front wall.
We achieved this by first painting a frame on the wall and then arranged all the photos of the ancestors in order.
There is a small hallway located in the coach house, which leads to the utility room and the guest bathroom. Another hallway takes you back to the library. A steep yet elegant staircase leads to the guest room.
An old cellar window, which we transformed into a mirror, has found its place in the coach house.
Two of the old doors from the office have also been used to create a screen. We adapted the colour of the new middle section to match the antique doors. I used Indonesian lacquered and carved wooden strips over the square windows to soften their appearance.
Painted in the same orange hue as found on the screen, they give the otherwise utilitarian square windows a delicate elegance with their gently curved shape. These strips are often draped with hand-woven fabrics and also have great decorative significance in Indonesia.