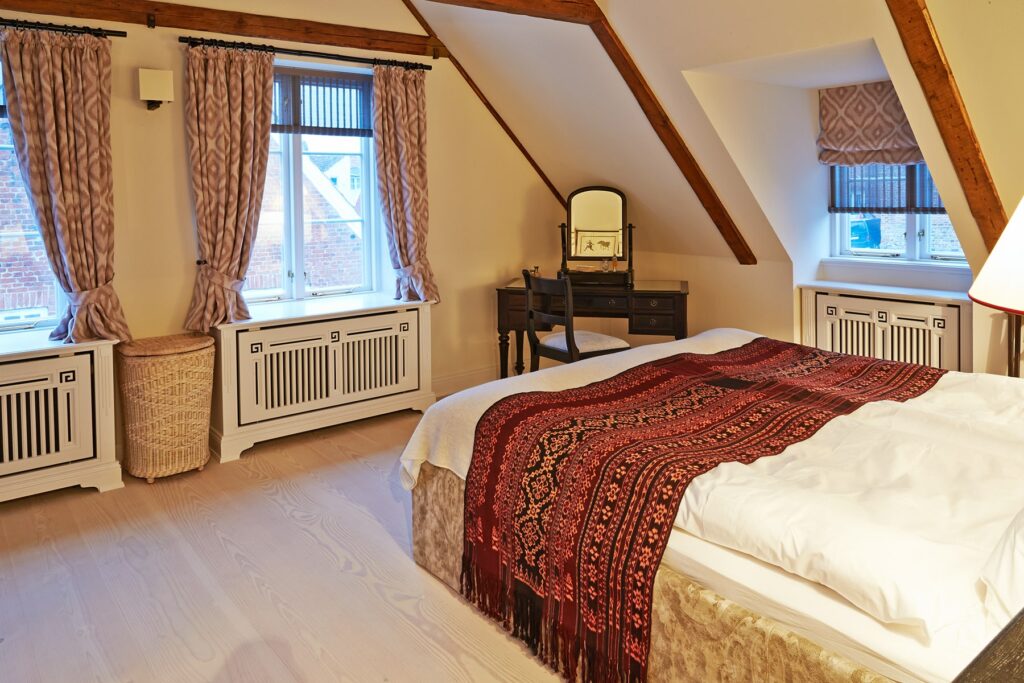 This project is at the heart of a large comprehensive artistic endeavour. The introduction to this project can be found here: Ophold – dining and meeting room in a historic townhouse
As in the case of the Indigo Room, a small bathroom is attached to the master bedroom, which is on the other side of the hallway. (see separate post – historic bathrooms).
This room was enlarged by removing a wall towards the front of the house. In addition, we have achieved a much more pleasant room height by raising the ceiling, which imparts the room with a more generous sense of space.
We envisaged a spacious double bed in this bedroom, the frame of which was covered with De Le Cuona fabric. The mattresses were made to customer requirements and thus adapted to the individual habits of the client.
In the corner next to the sloping ceiling there is space for a dressing table, an antique table and mirror ensemble with a drawer which we purchased from the former ABTEI Boutique Hotel in Hamburg. At the head of the bed, we integrated three watercolour drawings already owned by the client into a screen to create a decorative solution for the headboard.
I found the bedside cabinets at Nicholas Haslam in London. They complement each other perfectly with the screen at the head of the bed.
We created the small wooden clothes stand using material which had previously been part of a fire guard.
The bedside lamps are made from old wallpaper printing rolls and handmade light shades. The bedspread is an antique fabric from Indonesia already owned by the client. The red gentlemen's wardrobe has drawers hidden behind the doors and provides storage space. It is a custom-made piece handcrafted in a historical style. The curtains were attached to black lacquered bamboo poles and the additional blinds help darken the room when desired.