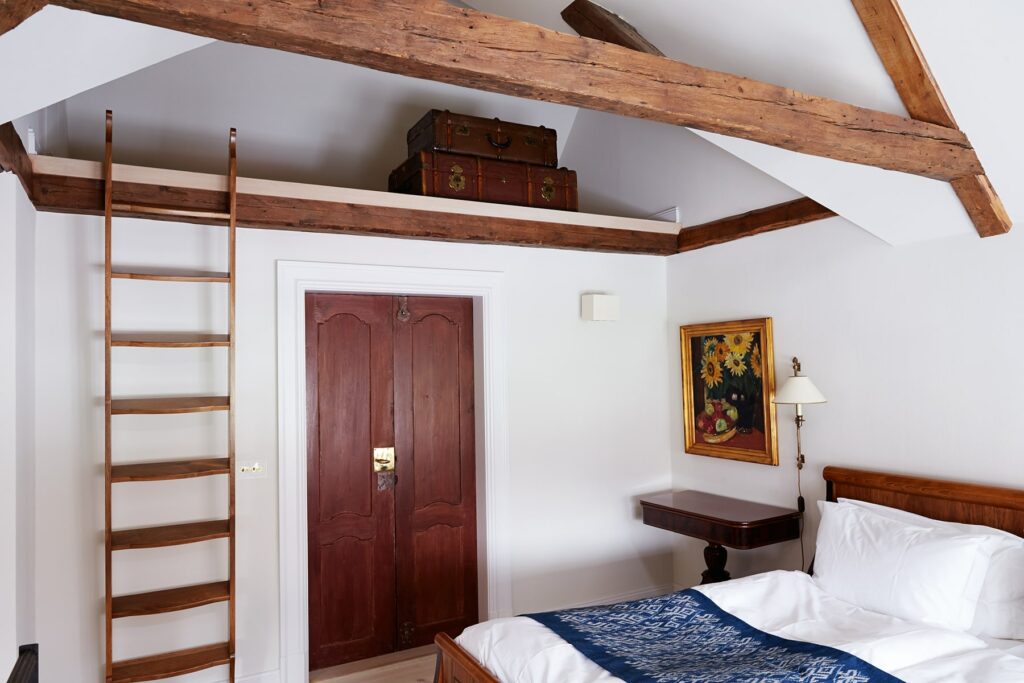 This project is at the heart of a large comprehensive artistic endeavour. The introduction to this project can be found here: Ophold – dining and meeting room in a historic townhouse
This room is indigo suite. There is a double bed in the front area, which is accessed via the small hallway and through the restored double doors. Proceeding from this, a small boxroom offers space for a seating ensemble. Continuing around the corner one discovers a blue bed built into a niche. A small adjacent door then opens onto the matching bathroom, which has also been designed in the indigo theme (see Historic bathrooms).
We opened the roof up to gain more space and exposed and treated the crossbeams. To ensure good thermal insulation, we had to cover up the beams on the sloping portion of the roof. To retain the cosy character of the attic, we bought old beams and cut them lengthwise in half. These were then applied to the sloped ceiling aligned with the hidden beams.
We rebuilt the beds using walnut wood. The remaining furniture and the paintings are from the owners of the house and have been restored.
The original colour of these old double doors has been left on the inside.
They have been coated with many layers of paint over the years. The restorer carried out a lot of detailed work to bring out this colourfulness. We carefully cleaned and restored the artwork and decorative elements on the side of the doors facing the hallway.
Records from the family history state that an ancestor conducted the first negotiations with indigo dyers. I incorporated this heritage in the house as a single, unifying theme, encompassing the particular history, the furnishings and the "re-staging" of the premises with the furniture.
Fabrics from Jim Thompson, Duries rugs in indigo colors from Guinevere, Ikats, old Japanese indigo fabrics, I incorporated and brought in the composition of the INDIGO ROOM. The antique Danish cabinet was just as perfect match.
In the front of the suite, a library ladder leads up to a concealed niche that can be used for storage. The light, whitened oak floorboards give the whole ambiance modernity, levity and brightness and integrate the antique pieces perfectly to wonderful effect. The radiator casings are the same style throughout the entire house in the same style featuring a recurring meander fretwork motif.